Baker DMMs Chris Baker and Merrill Lynchs Tom Hayes are partnering with the Atlanta Chapter of the Notre Dame Alumni group to provide a 1-hour presentation on daily money management and wealth management. The presentation will be held in Buckhead, GA on Thursday, March 21 at 7PM. The cost is free for members of the Atlanta Chapter of the Notre Dame Alumni group, and will be $5 for non-members. If you would like to RSVP, or would like more information about this event, please email (chris@bakerdmm.com) or call Chris Baker (678.640.8512).
We support…
Baker DMM is proud to announce we are supporters of RisingSeniors.com. RisingSeniors.com is an educational program and series of events created to assist high school juniors with their athletic, academic and social development. For more information about RisingSeniors.com click on the Georgia Junior Bowl logo below.

Community Involvement…
Over 150 CPA members of the Georgia Society of CPAs recently met at the Georgia State Capital in honor of the 2013 CPA Day at the Gold Dome. Chris Baker was able to meet with his legislator Mr. Edward Lindsey and offer his support to help tackle issues affecting the state. For more information on this event, please click on the photo below.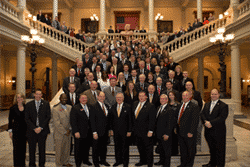 What is DMM?
"Daily Money Management" is a financial service specifically for those who would prefer someone else to handle their day-to-day financial matters. A variety of people employ daily money managers (DMMs) for assistance with wealth management, ranging from senior adults who would like a co-pilot to review their financial paperwork with them to busy professionals who don't have the time. Some tasks performed by DMMs include payment of bills, account reconciliations, wealth management, and assistance with cash decisions. If you or anyone you know might benefit from working with a daily money manager, please let us know, we would be glad to meet with them.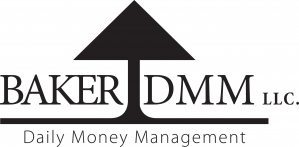 Thank you for taking the time to review our quarterly update.
Best regards,
Chris
Cartoon for the road: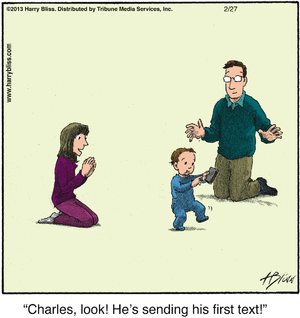 Quote of the day:
"Ultimately, it's all about relationships." General Stanley McChrstyal, US Army, 4 Star General, Retired, 1954-
Follow us on Facebook for all of the latest news, updates, financial tips, and more! https://www.facebook.com/BakerDMM/